piezobrush® PZ3
Effective plasma handheld device for manual use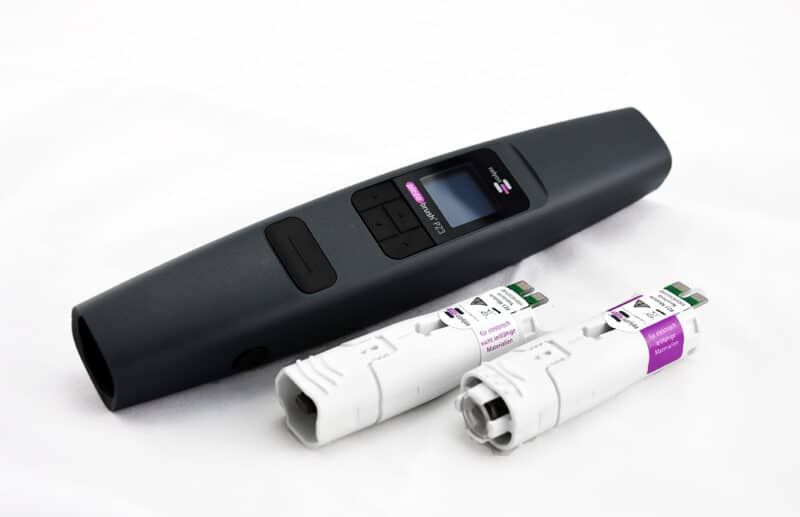 Piezobrush® PZ3 has been designed as a compact plasma handheld device for use in laboratories, predevelopment and assembly of small series. With a maximum power consumption of 18 W, the Piezoelectric Direct Discharge (PDD®) technology is used to generate cold active plasma at a temperature of less than 50°C. The heart of this portable plasma device is the TDK piezo plasma generator CeraPlas™ – a high-voltage discharge device for generating cold atmospheric-pressure plasma. Plasma is used to increase the surface energy of many materials with high efficiency, as well as to reduce germs and odors.
Get in touch >>
Fields of application
◊ Joining technology
◊ Development and optimization of production processes
◊ Research facilities and laboratories
◊ Microbiology, microfluidics and food technology
◊ Medical and dental technology
◊ Prototype and architectural model making
◊ Small-scale production
Possible use cases
◊ Activation and functionalization of surfaces of various materials
◊ Improvement of wettability
◊ Optimization of bonding, painting, printing and coating processes
◊ Surface treatment of plastics, glass, ceramics, metals, semiconductors, natural fibres and composite materials
◊ Ultra-fine cleaning and odour reduction
The table below shows the surface energy of different plastics. In each case, the surface energy is shown after treatment with the piezobrush® PZ3, the plasmabrush® PB3 (plasma high-performance system) and without prior plasma treatment.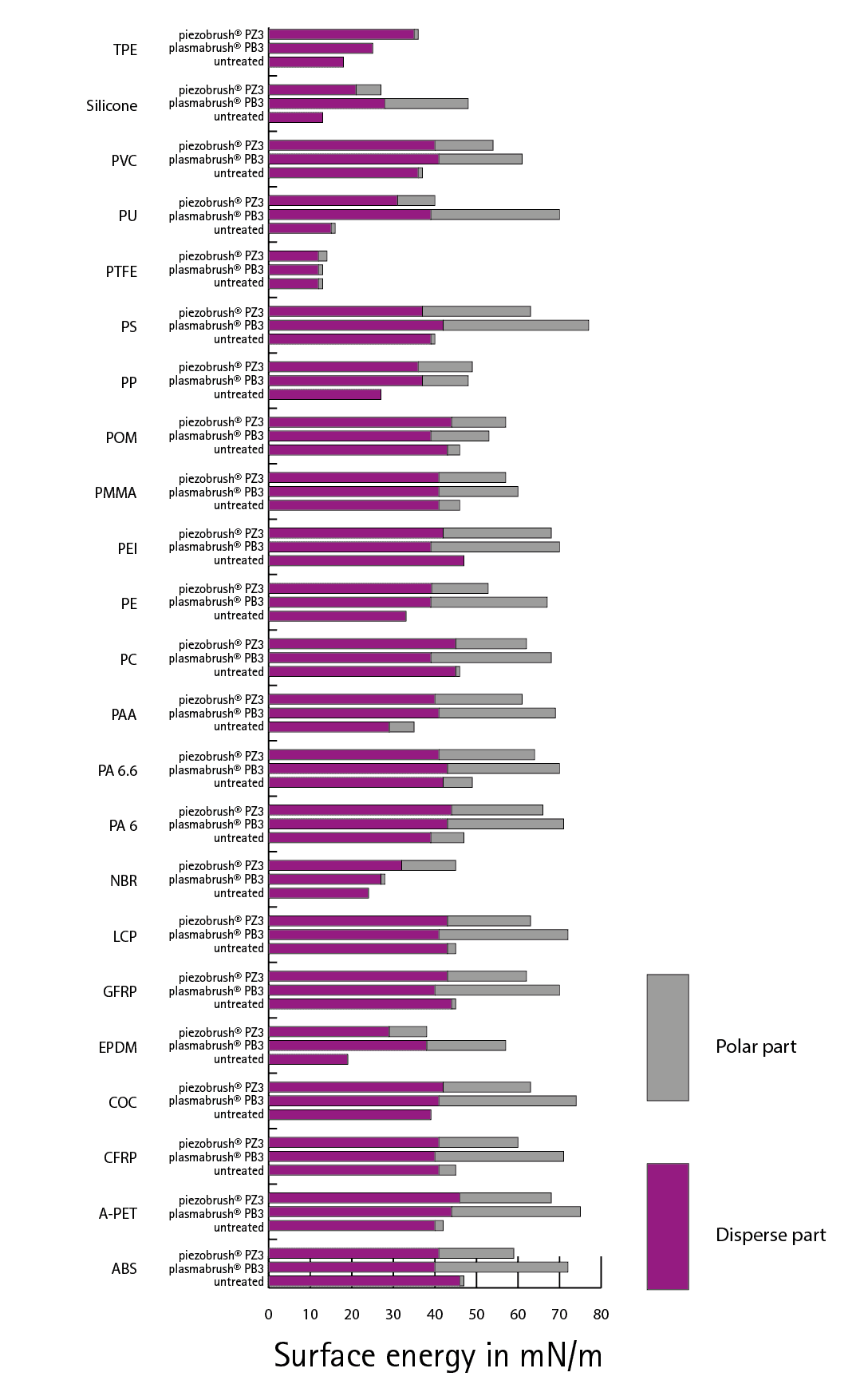 Technical data piezobrush® PZ3
Electrical connection: 110-240 V / 50-60 Hz
Power consumption: max. 18 W
Weight: 110 g
Design: Handheld unit with plug-in power supply, integrated fan
Sound pressure level: 45 dB
Plasma temperature: < 50 °C
Treatment speed: 5 cm²/s
Typical treatment distance: 2 – 10 mm
Typical treatment width: 5 – 29 mm
Modules
Different surfaces have to be activated with the appropriate accessories to achieve an ideal result. Currently two different modules are available for the piezobrush® PZ3 plasma handheld device. The PDD technology used to generate the cold plasma in piezobrush® PZ3 is based on the discharge of high electric fields. Therefore, the electrical conductivity of the component to be treated is of decisive importance when choosing the modules.
The device automatically detects which module is currently in the device and automatically adjusts the parameters accordingly.
Display
For process control of plasma treatment, the piezobrush® PZ3 is equipped with various features that can be selected and modified via the display.
Process control
◊ Stopwatch: For monitoring the treatment time
◊ Countdown: Time setting with automatic switch-off function
◊ Metronome: Acoustic feedback after defined treatment time
Power adjustment: Reduction of plasma power in several increments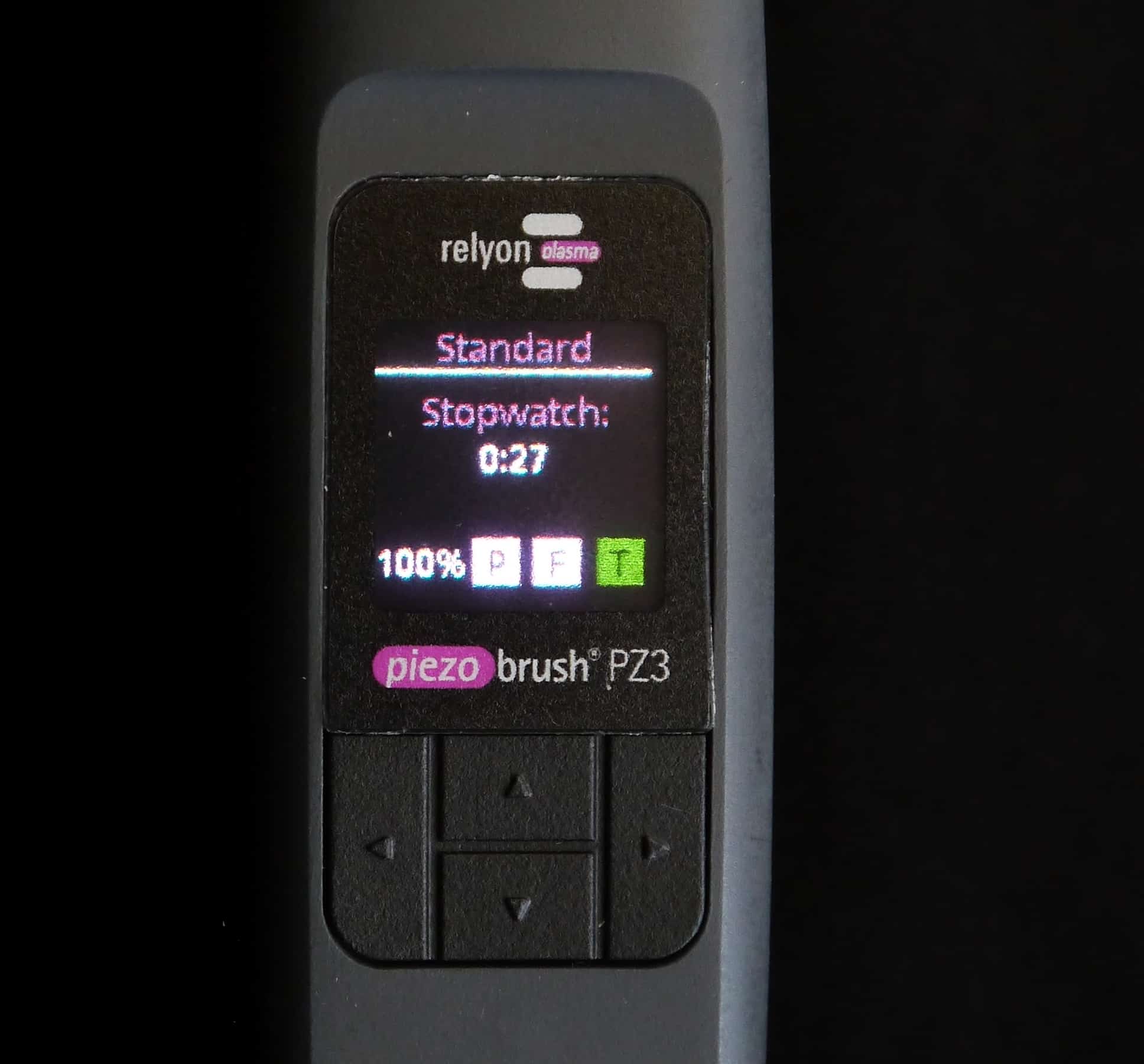 piezobrush® PZ2 vs. piezobrush® PZ3
The piezobrush® PZ3 is designed as successor of the piezobrush® PZ2. The table gives an overview of the respective advantages of the two devices.
piezobrush® PZ2
Handheld device with power supply
Changeable nozzles
No process control available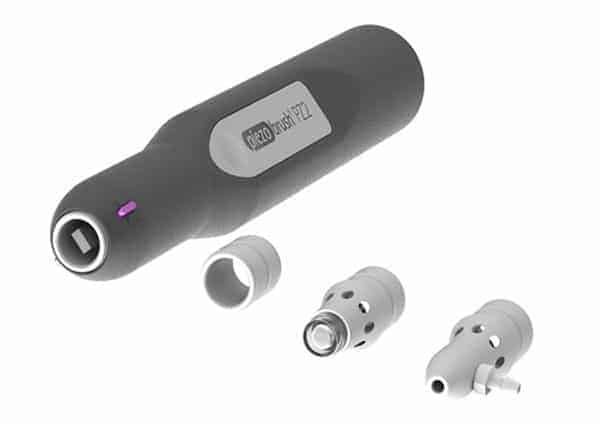 piezobrush® PZ3
Handheld device with power supply
Changeable piezo module
Processcontrol with:
Stopwatch, Countdown, Metronome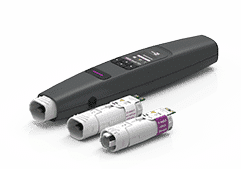 110-240 V / 50-60 Hz
max. 30 W
170 g
57 dB
< 50 °C
4 cm²/s
2 – 10 mm
20 mm
Standard, Nearfield
Multigas / Needle
Argon, helium and nitrogen
Electrical connection
Power consumption
Weight
Sound level
Plasma temperature
Treatment speed
Typical treatment distance
Max. treatment width
Standard modules
Special modules
Operating mode with inert gas
110-240 V / 50-60 Hz
max. 15 W
110 g
45 dB
< 50 °C
5 cm²/s
2 – 10 mm
29 mm
Standard, Nearfield
available Q1/2021
available Q1/2021
You want to have more information about the piezobrush® PZ2.
Technology – Plasma handheld with Piezo Technology
In order to provide products having convincingly compact dimensions, we developed the PDD® Technology. PDD stands for piezoelectric Direct Discharge. It is based on the direct, electric discharge at an openly operated piezoelectric transformer (PT).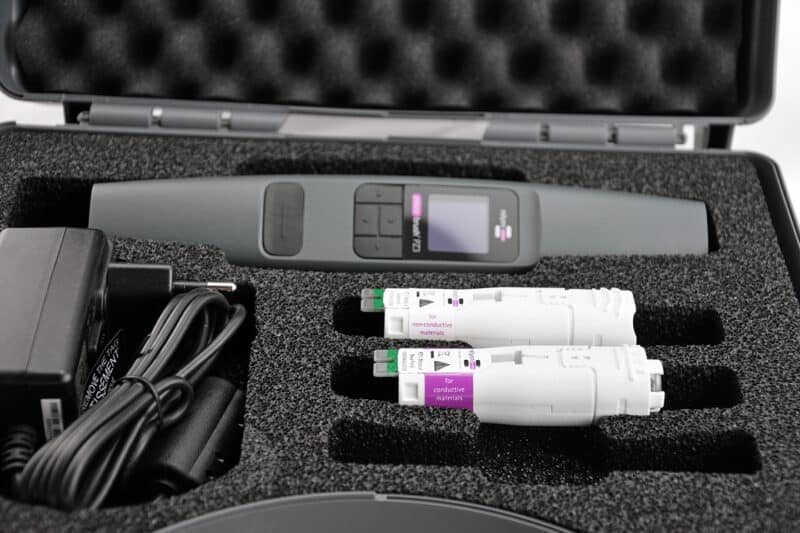 By means of PDD® Technology, low input voltage is transformed. This results in high electric field strengths. The ambient process gas – typically air – is dissociated and ionized.
The advantages of direct discharge control are obvious: The excitation of gas molecules is highly efficient and safe. Furthermore, the power density of the compact device is extremely high. In practice, a processing performance level is now achieved that had previously been possible only by means of considerably larger installations. This is the ideal device for manual applications in laboratories, medical technology, in commerce and in industry.
The piezobrush® has been conceived for application by end-users. Here, relyon plasma has paid particular attention to usability and user-friendliness. The piezobrush® requires no specialist, technical knowledge and no complex infrastructure.
The CeraPlas F plasma generator, from TDK Electronics, is a direct high-voltage discharge component for plasma generation, forms the heart of the plasma handheld. The piezoelectric RF plasma generator offers a high ionization rate and an effective ozone generation rate as well as multigas ignition, low power consumption and no magnetic fields.
piezobrush® PZ3 as loan unit
Would you like to test the piezobrush® PZ3 plasma handheld? No problem – our piezobrush® PZ3 is also available on loan. We will send you the piezobrush® PZ3 for a rental fee and you can test the tool directly on your premises in your individual working environment. If the piezobrush® PZ3 convinced you during the test phase, we will of course credit the rental fee to the purchase price. Otherwise, you can simply return the rental unit to us at the end of the test phase.