piezobrush® PZ3-i
Compact plasma integration as industry standard of the future
The piezobrush® PZ3-i cold plasma unit is designed for integration into new and existing production lines and is therefore compact, safe and efficient. It is particularly well suited for the pre-treatment of processes such as bonding, printing and laminating, thus ensuring process and product quality in equal measure. Due to its uniquely compact and robust design, the piezobrush® PZ3-i can be quickly and easily integrated into production lines as well as partially to fully automated systems. In addition, comprehensive process control is possible in automated production processes, ensuring traceability. The device is also intuitive to operate and can be maintained without tools.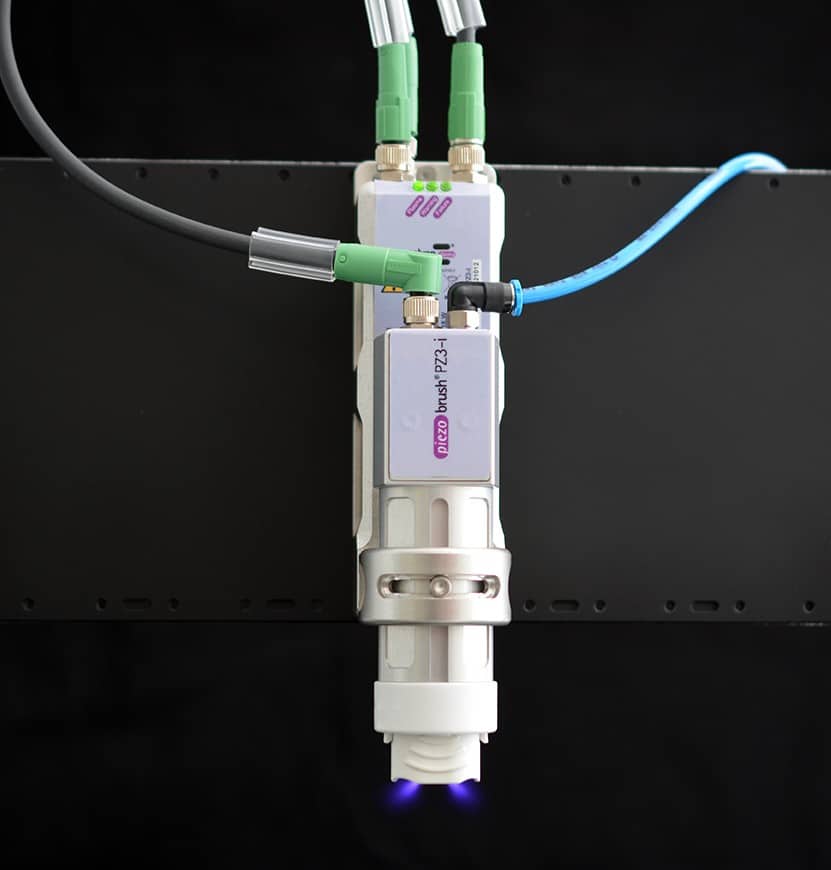 Applications
Inkjet, marking and pad printing
Bonding processes with epoxy, polyurethane and cyanoacrylates etc.
Potting and dispensing technology
Joining and assembly technology
Laboratory and medical technology
Packaging technology
Microbiology, microfluid and food technology
Fields of application
Activation of surfaces of a wide variety of base materials
Optimization of bonding, printing and lamination processes
Surface treatment of plastics, glasses, ceramics, metals, composites and natural materials
Selective improvement of the wettability of a wide variety of surfaces
Fine cleaning of surfaces
Alternative to chemical primers, flame treatment processes and mechanical roughening
Application examples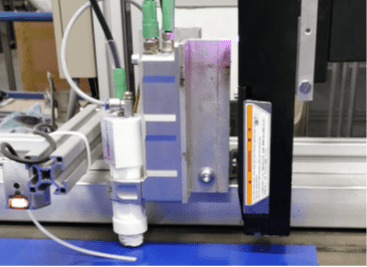 piezobrush® PZ3-i beta test report
A market-leading company in the development, production and distribution of surface treatment tooling solutions uses the new piezobrush® PZ3-i in conjunction with the KEYENCE MK-G1000SA continuous inkjet printer to safely and effectively mark PTFE fabrics.
piezobrush® PZ3-i in our Online Shop
Technical data piezobrush® PZ3-i
Electrical connection: 24 V DC
Power consumption: max. 18 W
Weight: 370 g
Design: Integration unit with gas connection
Plasma temperature: < 50 °C
Typical treatment speeds:

Finest cleaning: 1-15 mm/s
Bonding processes: 10-150 mm/s
Printing processes: 100-1500 mm/s

Typical treatment distance: 2 – 10 mm
Typical treatment width: 5 – 29 mm
Modularity
With an average treatment width of 5 – 29 mm (CDA), the piezobrush® PZ3-i is very well suited for the pre-treatment of adhesive grooves or for marking printing on low-energy materials. However, with other process gases such as nitrogen, even treatment widths of up to 50 mm are possible. For many applications, however, even larger treatment widths are required. Thanks to the modular design, it is very easy to string together the individual units at any time, so that even larger treatment widths can be individually adapted to the application.
Modules
Different surfaces have to be activated with the appropriate accessories to achieve an ideal result. Currently two different modules are available for the piezobrush® PZ3-i plasma handheld device. The PDD technology used to generate the cold plasma in piezobrush® PZ3-i is based on the discharge of high electric fields. Therefore, the electrical conductivity of the component to be treated is of decisive importance when choosing the modules.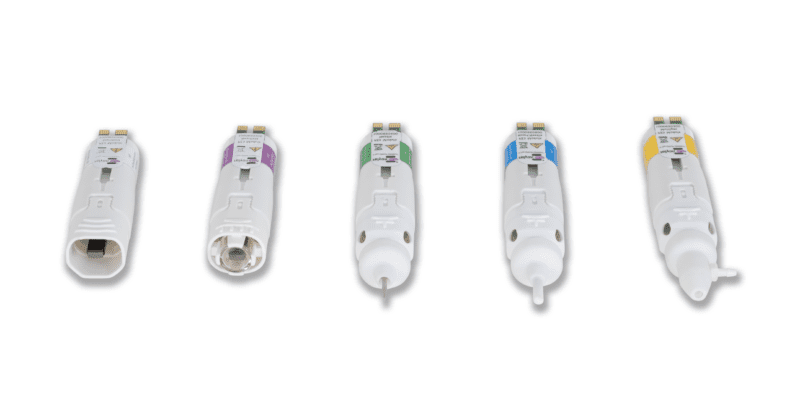 Modules in our Online Shop
Connection cables for piezobrush® PZ3-i
This optional accessory set for the piezobrush® PZ3-i consists of a DC connection cable, a communication connection cable and a gas hose. Each cable is 10 m long. The accessory set is available in the onlineshop.
Advantages
Ease of maintenance: module change without tools, basically rarely maintenance required
Modularity: modules matched to the application and substrate material, multiple units can be connected in series
Communication and process safety: monitoring by plasma OK signal whether module is in permissible operating point, extremely low temperature input on the materials (no thermal overtreatment of substrates possible), digital I/O signal, LED status display, low flow velocities for temperature-sensitive materials and lightweight components, optional: BUS communication available (module history can be read out)
Work safety: touch safety (no light barrier or mechanical enclosure required), generally no personal protective equipment (PPE) necessary, very low nitrogen oxides
Integration: power supply by low voltage (24 V), low weight enables low-cost robot units, easy to integrate, compact design (separability of module carrier and driver unit), also suitable for small installation space, easy to implement hardware interfaces
Environmental friendliness: energy efficiency (max. 18 W), very low consumption of process gases (10 l/min), very environmentally harmful processes such as chemical primer or flame treatment processes are replaced
Very good price-performance ratio: low operating costs, customer-friendly initial costs
Low-threshold process validation due to compatibility with handheld device: identical core components and performance class
FAQ
Downloads