plasmacell P300
Plasma all-in-one system for small to medium-sized components
The plasmacell is a compact stand-alone plasma system that provides a perfect working environment for simple and efficient plasma treatment of your workpiece. By combining and enclosing a high performance plasma device, a high voltage source and a XYZ robot, you get a semi-automated system that meets all safety guidelines.
The plasmacell is mainly used in research and industrial development, since the treatment process can be reproduced exactly at any time by robot automation. Thus plasmacell guarantees a constant quality at all times. In addition, a comprehensive software system is pre-installed, which enables the entire process monitoring.
The versatility of the robust cartesian axis system and the reliability of the plasma generator leave nothing to be desired. The coordinated system sets new standards in economy and quality.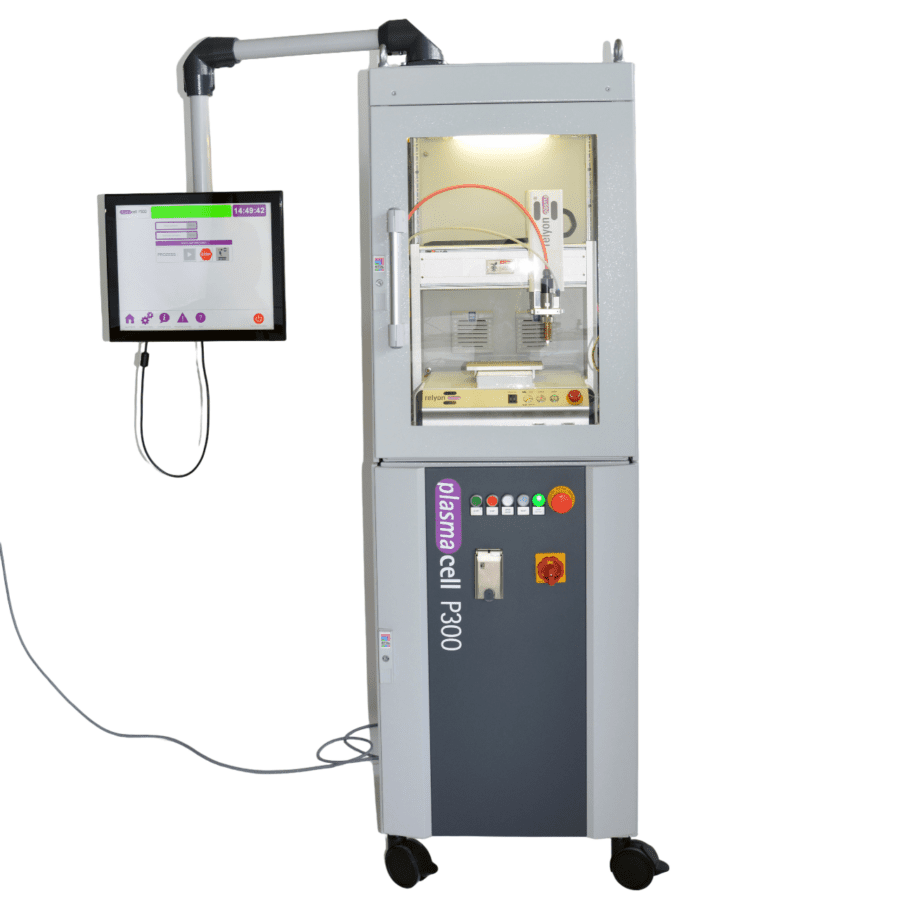 plasmacell P300 in our Online Shop
Field of application
Small series and prototype construction
Pre-development and development
Universities, laboratories and research institutes
In-house sampling
Automotive sector
Industrial, reproducible processes
Possible applications
Cleaning of metal, glass and plastics
Surface activation and functionalization for optimized wettability
Plasma-assisted adhesive bonding
Plasma-induced reduction of metal surfaces
For small to medium-sized components and batches
Technical specification
Work area 300 mm x 300 mm x 200 mm
Power supply 230 V, 50-60 Hz
Protection classification IP54
Floor space 700 mm x 1,100 mm (approx. 0.8 m²)
Application examples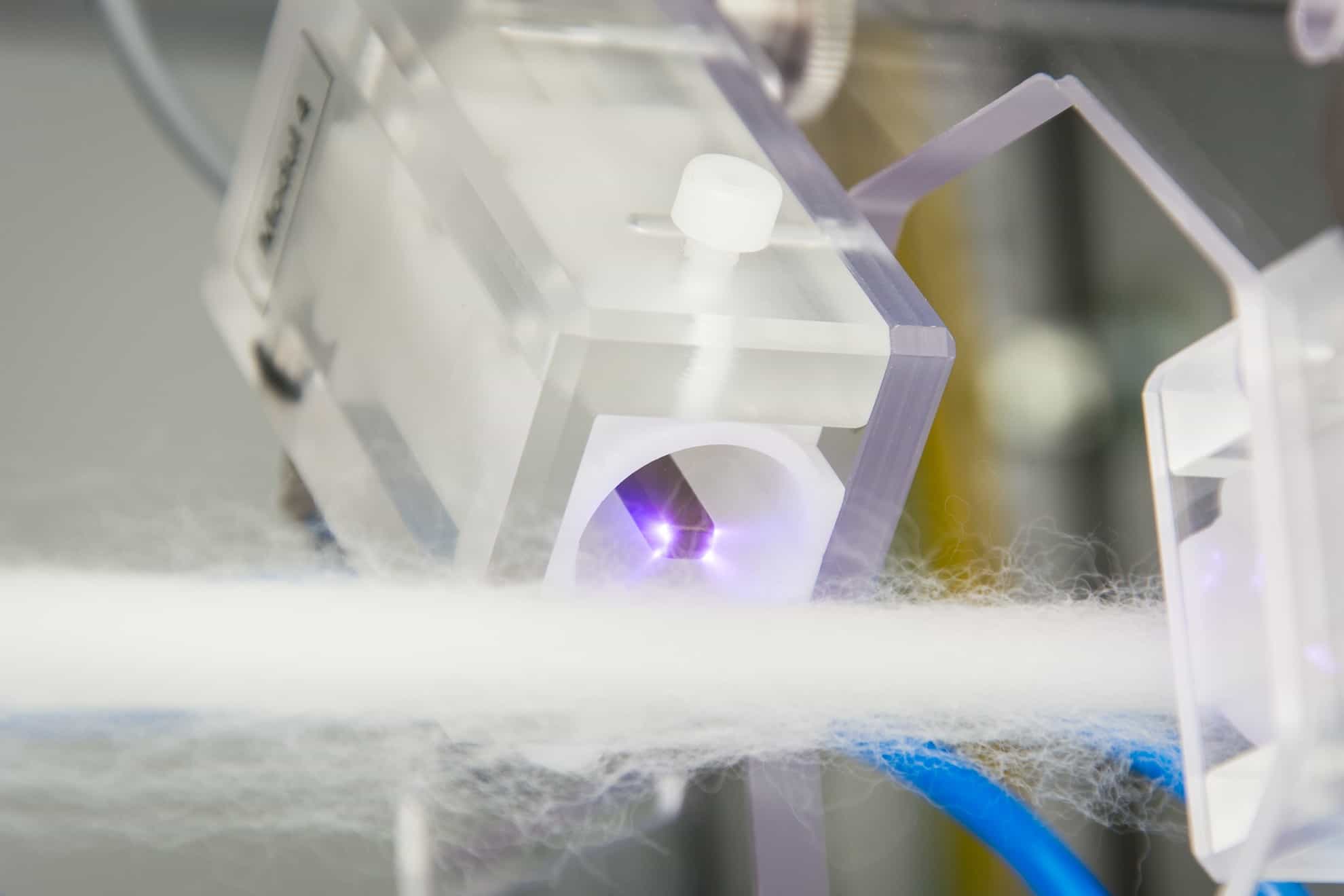 In cooperation with the Research Institute of Textile Chemistry and Textile Physics of the University of Innsbruck, relyon plasma GmbH has developed the Plasmacell P300 with Piezo Radial Source designed especially for the plasma treatment of textile fibres, yard goods and continuous material.
Technology
Thanks to its modularity, the basic system can be flexibly expanded and is consistently optimised for ergonomics and occupational safety. The well proven plasma system plasmabrush PB3 is characterized by low weight and compact design of the plasma head. This allows the full dynamic range of motion to be exploited. The efficient high voltage source PS2000 provides the power for all practical requirements. The system is tested and delivered fully installed: Simply plug and play. All options can be easily upgraded.
The closed cell ensures a clean environment. The exhaust air can be cleaned with an optional filter which makes an external suction device obsolete. Also, you can choose an optional completely autonomous compressed air supply as compact and quiet 19 inch rack. This option makes you independent from a compressed air supply.
Software
Operation of the plasmacell is simple and intuitive. The included Teachbox allows you to program treatment sequences quickly and easily, so that you can save and reaccess them. In addition, the standard version of the plasmacell is equipped with a touchscreen. Not only can you start and stop the traversing unit, but you can also set, monitor and control your entire process.
By setting the speed and the distance taken by the traversing unit, it is possible to define exactly how long and where the workpiece has to be treated. Additionally, the entire process can be monitored regarding for frequency, power, performance and voltage via the control panel in the software. These two functionalities make it possible to quickly and easily determine the best treatment process for each material and workpiece.
Advantages
Can be used immediately without installation effort
Partial automation, only sample mounting is done manually
Very high work safety
Operation with or without external gas connection possible
FAQ
Downloads
| Description | Language | Download |
| --- | --- | --- |
| plasmacell P300 Flyer | EN | Flyer |
| plasmacell P300 Manual | EN | Manual |