Our Services for our customers
We are a modern, technology-oriented company with lean structures that offers customer-specific plasma solutions "made in Germany" by a team of experts.
Advantages
Innovative and optimized plasma technology
All plasma systems are available for immediate delivery
Light and robust plasma systems
Personal consultation on-site or at relyon plasma
Fast and flexible consulting and sampling
Excellent price-performance ratio
Easy maintenance without special tools
Rental equipment for testing on your premises under real conditions
All spare parts in stock
Customer-specific developments
Plasma systems "made in Germany"
Regional suppliers from Bavaria
Our interdisciplinary development teams work with goal-oriented efficiency, drawing on our own mechanics and construction departments as well as an ideally equipped laboratory. Each of our employees is a specialist in their field.
Every process stage is supported by consistent quality management in accordance with DIN EN 9001, which ensures maximum product functionality and safety.
Seal of approval "Innovative through research"
We are very happy that our research activities have been recognized by Stifterverband for the German Science Foundation with the seal of approval "Innovative through Research". Managing Director Dr. Stefan Nettesheim commented on the seal of approval: "We are very happy that our research and innovation work has been honoured. The recognition encourages us to give young employees and experienced colleagues creative freedom and to develop and implement new ideas together".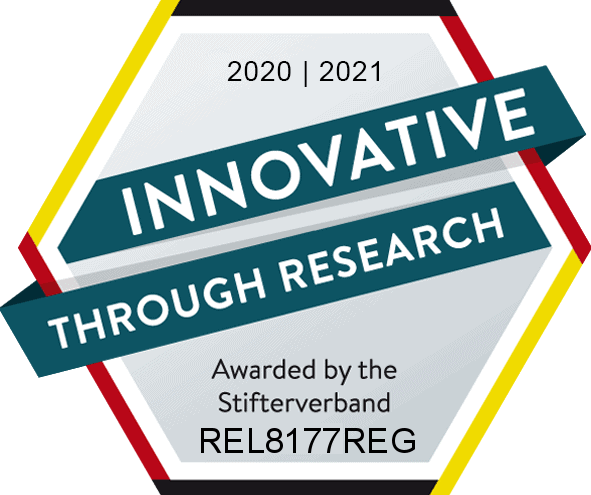 Product consulting
The basic functions of our products can be understood intuitively. If you are interested in optimizing your results, why not profit from our years of experience? We are happy to consult with you either on our premises or directly at your production site, by demonstrating practical examples as well as prepared applications and by sharing references given about us.
The piezobrush has worked great for our application, we used to have a big problem with our devices leaking and traditional plasma treatment was too aggressive for our product. The team at reylon plasma has been a great deal of help and were willing to help us solve our issue.
Robert Aguilar - Complete Genomics, Inc.
Process consulting
Our wealth of experience allows us to optimize your processes in close collaboration with you. Aspects of safety and quality play just as important a role as cost control (TCO: total cost of ownership). The question of profitability will be analyzed comprehensively and discussed with clarity and transparency.
Sampling
In our applications lab, we can process and analyze your samples for you or together with you. The desired effects are thus verified and documented. At the same time, you receive practical training in how to use our plasma devices and can see for yourself how easily they are handled.
Rental devices and plants
Within a short space of time, we make entire plants available to you for use in your production processes, whether for temporary hire or for permanent use. The introduction and commissioning of our products becomes child's play.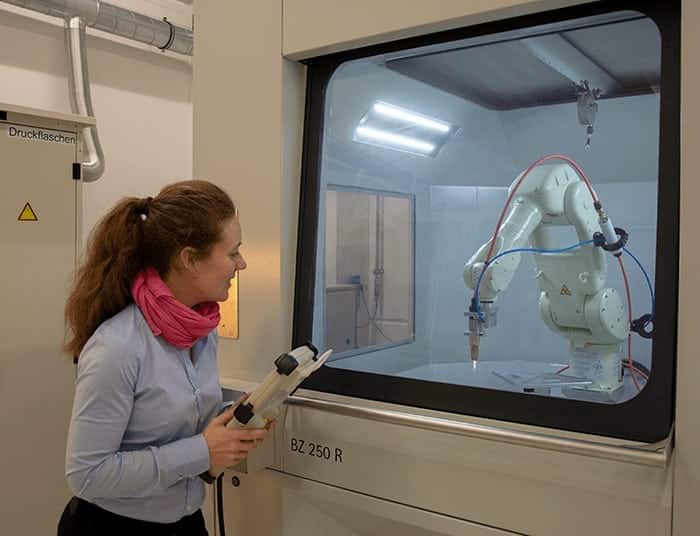 Easy xyz systems for desktop use
For specific clients' projects which cannot be served from our standard portfolio, we offer customized products made by local or international manufacturers whose exact knowledge of our devices has been built over years of trusting cooperation.
Customer service
The reliability of our plasma solutions is our first and foremost goal. We offer our customers comprehensive service at short notice. To this end, we keep all important spare parts in stock as far as possible. When you put our plants into service, we are there to support you over the phone, by email, through remote maintenance or on-site on your premises. We aim to always provide qualified assistance within 24 hours.
Customer-specific developments
Our development department will cooperate closely with you to realize exclusive plasma solutions for your product and under your name. Your added value – "powered by Relyon Plasma". Our staff will cover the entire spectrum from providing the scientific base during concept development to delivering prototypes suitable for series production. Our know-how comprises mechanical construction, choice of materials, fluid mechanics, thermodynamics, electronics, and software.
Examples for customer specific solutions >>