Plasma pretreatment: Varnishing
Plasma surface pretreatment improves the adhesion of paints and varnishes to the surfaces and thus improves the quality of the coating and varnishing. Many components are made of materials such as metals, glass, ceramics and even natural materials such as wood and textiles, whose surfaces are very difficult to varnish. Plasma pretreatment: Varnishing with atmospheric plasma cleans the components on the one hand and functionalizes them on the other. As a result, many polymers with typical non-stick surfaces can be successfully coated. This process also enables a solvent-free coating. The result is a uniform and faultless varnish that has been produced using an environmentally friendly process.
The picture below shows an aluminum plate, which was pre-treated on the left side with the plasma handheld piezobrush® PZ3 before painting. In order to evaluate the painting result, a cross cut test was then carried out on the sample. This showed a significantly better result on the left – plasma treated side compared to the right – untreated side. The subsequent peel test also reinforces the result.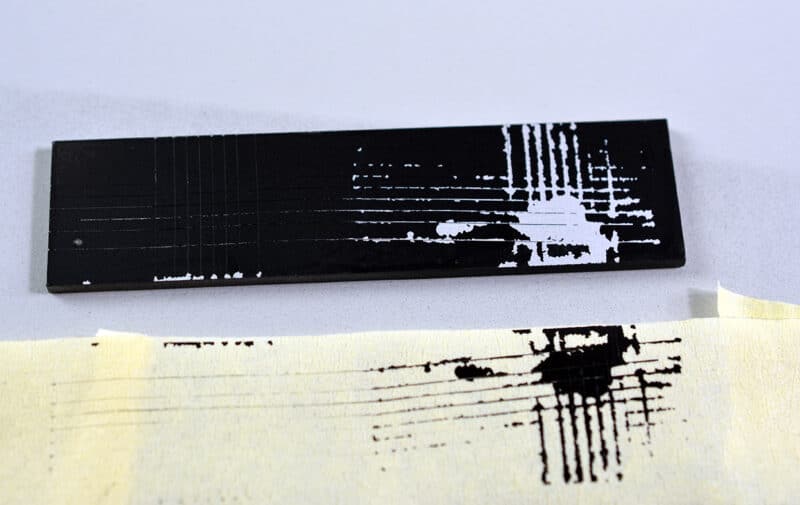 Plasma processing achieves the surface functionalization effect through a combination of ultra-fine surface cleaning from organic contaminants, modification of the surface topography and deposition of functional chemical groups. In the case of metals, plasma can also reduce hard metal oxides exposing the bare metal surface.
Plasma functionalization of surfaces can be performed at the atmospheric pressure using air or typical industrial gases including hydrogen, nitrogen, and oxygen. It avoids expensive vacuum equipment or wet chemistry, which positively affects its costs, safety, and environmental impact. Fast processing speeds further facilitate numerous industrial applications.
Advantages of plasma processing
Plasma cleans, strengthens and chemically functionalizes the surface. All these effects, which are required for improved varnishing, are achieved simultaneously in a single step:
Ultra-fine cleaning, no residues
Improved and uniform varnish appearance
Degreases the surfaces
Produces an antistatic effect
No washing and priming processes necessary
Gentle, non-destructive surface treatment
No wet chemistry
Air or cheap non-toxic working gases
Environmental friendliness
No expensive vacuum equipment
Fast processing speeds
Easy integration into existing production lines