relyon plasma GmbH
We focus on your plasma applications
Relyon plasma GmbH, a subsidiary of TDK Electronics AG based in Regensburg, Germany, is an innovative company in the field of plasma technology. As a team that works on an interdisciplinary basis, we take the many diverse possibilities offered by state-of-the-art plasma technology and apply these to your products.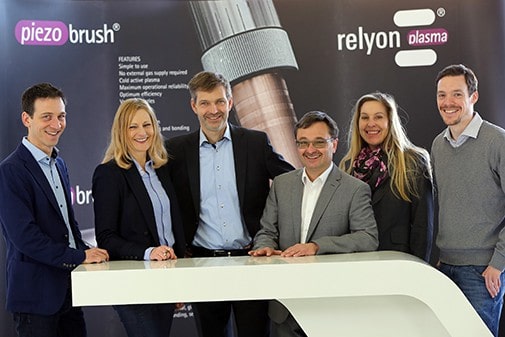 With our professional sector expertise we are able to supply a broad spectrum of elegant solutions, for instance, for atmos­pheric plasma surface treatment. We are experts in the activation and ultrafine cleaning of a wide variety of materials, as well as sterilisation and tissue stimulation in laboratories and the medical sector.
Our principle – advancing technology for safer processes
We offer a broad spectrum of modular components for surface pretreatment such as activation and ultrafine cleaning, as well as for sterilisation, tissue stimulation and odour neutralisation in laboratories and the medical sector.
Many years of experience
We have many years of experience in plasma technology. With a passion for innovation, we develop the technology of our products. We focus on delivering function, efficiency and reliability for our customers.
In addition to our own products that can be used for many different applications, we develop customer-specific OEM components right up to series production for optimising surface properties in a rational and environmentally responsible manner and for contributing towards product and patient safety in the hygiene sector.
Experts and Know-how
We offer extensive expertise and market knowledge for new and practical plasma solutions for manual and inline use.
The modular OEM products developed under our own brand name or specifically to meet the individual needs of our customers, can be simply integrated into new or existing production and control systems to extend and modernise your automation processes.
Quality guidelines
"Quality is to know and to exceed customer expectations."
"Profound knowledge is the foundation to Quality."
More information about certification>>