Pre-treatment for printing using plasma
Pre-treatment for printing and coating using plasma has established itself as a standard process in all common printing processes such as digital printing, pad printing, screen or offset printing. The adhesion of the printing inks and varnishes to the surface is enormously improved by pre-treatment with plasma, which significantly increases the print quality. The surfaces of many materials such as metals, glass, ceramics and even natural materials such as wood and textiles are often very difficult to print on but are susceptible to plasma functionalization. Plasma pre-treatment allows many polymers with typical "non-stick" surfaces to be successfully printed and coated after plasma treatment.
The picture below illustrates the interaction of surface energy, printing ink and plasma. In the upper picture we see a drop of ink applied to a surface and below that the print result. The first drop has a very large contact angle of more than 90° and therefore wets the surface very poorly, which has the effect that the ink contracts on the surface and does not wet evenly. The two drops in the middle already have a flatter contact angle, which improves the printing result accordingly. The best result is obtained when the contact angle is 0°, as then the ink drops wet the surface well and creates an even print image.
Plasma processing achieves the surface functionalization effect through a combination of ultra-fine surface cleaning from organic contaminants, modification of the surface topography and deposition of functional chemical groups.
Plasma functionalization of surfaces can be performed at the atmospheric pressure using air or typical industrial gases including hydrogen, nitrogen and oxygen. It avoids expensive vacuum equipment or wet chemistry, which positively affects its costs, safety, and environmental impact. Fast processing speeds further facilitate numerous industrial applications.
Advantages of the pre-treatment for printing with plasma
Plasma cleans, strengthens and chemically functionalizes the surface. All these effects, which are required for a good printing result, are achieved simultaneously in a single step:
Ultra-fine cleaning, no residues
Better ink adhesion
High resistance to aging, handling, and weathering
Excellent colour brilliance
Gentle, non-destructive surface treatment
No wet chemistry
Air or cheap non-toxic working gases
Environmental friendliness
No expensive vacuum equipment
Fast processing speeds
Easy integration into existing production lines
Application examples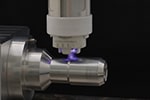 Product launch piezobrush® PZ3-i
The highlight of this year's trade show appearance at Bondexpo is the presentation of the compact integration solution piezobrush® PZ3-i for the first time ever. The cold plasma device is designed for integration into existing production lines and is therefore compact, safe, and efficient. Thus, it is ideally suited for pre-treatment prior to gluing, printing, and laminating.