Plasmabrush® PB3 – High-performance system
High performance atmospheric plasma system
Our Plasmabrush PB 3 is a high power plasma system with Pulsed Atmospheric Arc Technology, for applications that require high performance and rapid processes. Perfectly coordinated components in robust industrial design: 19-inch high power voltage supply PS2000 and plasma generator PB3, connected through a flexible 10m cable for easy integration into every facility.
Thanks to many years of experience in arc load dynamics, fluid mechanics and power electronics, we have developed an atmospheric plasma system which is unique concerning its power density and function. Easy integration into industrial processes and ability to communicate were at the focus throughout the entire development of this universally applicable plasma unit.
Whether in precision cleaning or surface activation, whether in coating or sterilization processes: Our system fits every process environment – secure and reliable.
Get more information >>
Field of applications
Automotive sector
Printers and printing industry
Packaging industry
Applications
Ultrafine cleaning
Reduction of oxide layers
Surface functionalization
Pre-activation for bonding, sealing, casting or printing
Coating, laminating and sealing
Germ reduction and sterilization
Advantages
Compact Design
Easy Integration
Suitable for compressed air, nitrogen and other gases
Variable Power
High start-stop dynamics
Maximum operating reliability
Nozzles
There are three different nozzles for the plasmabrush PB3 atmospheric pressure plasma generator. All nozzles are high performance nozzles which are operated with a Pulsed Atmospheric Arc (PAA®) Plasma Generator (PG31) and pulsed high voltage power supply (PS2000).
The nozzleachieves the following functions:
focussing of the plasma flame
acting as a grounded cathode to confine the highpower electric arc
forming of the cavity to excite the process gas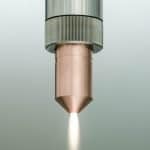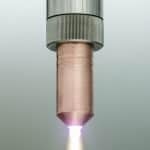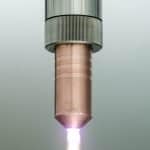 Technology
Our plasma system can be adapted to fit process requirements spot-on through a wide variety of accessories. Thus, the quality of your processes and products can be optimized at minimal cost. You only use the components you really need. All components are coordinated perfectly and have been through extensive stress tests. This simplifies maintenance and servicing, and availability is ensured on the shortest possible time scale.
We have consciously adapted our high voltage power supply PS2000 to the independent industrial standard of CanOpen, which makes exceedingly reliable communication possible even under the more severe circumstances an industrial environment can bring about.
A great number of sensors or mass flow controllers operate using the same standard. Every prevalent industrial control worldwide provides a suitable interface. Up to 127 devices can be addressed via CAN node. Every PS2000 high power source can be controlled with a simple DIP switch in the address space of 0 to 99.
Systems
Our plasmabrush PB3 system can be operated as a basic system with one plasma source and high voltage source as well as a multiple system with several plasma and high voltage sources – according to your individual requirements:
Basic Plasma System
Multiple Plasma System
Communication Systems
For our plasmabrush PB3 plasma system you can add different communication packages:
Digital Communcation System
USB Communication System
CAN Communication System