beautyPlas Concept – for skin treatment
with CeraPlas technology
The prototype beautyPlas was developed for cosmetic plasma treatment of the skin and can also be used in manicure and pedicure, for example to prepare nails for the application of nail polish or artificial nails. Here, the adhesion is increased, so that nail polishes and artificial nails last both better and longer.
Application beautyPlas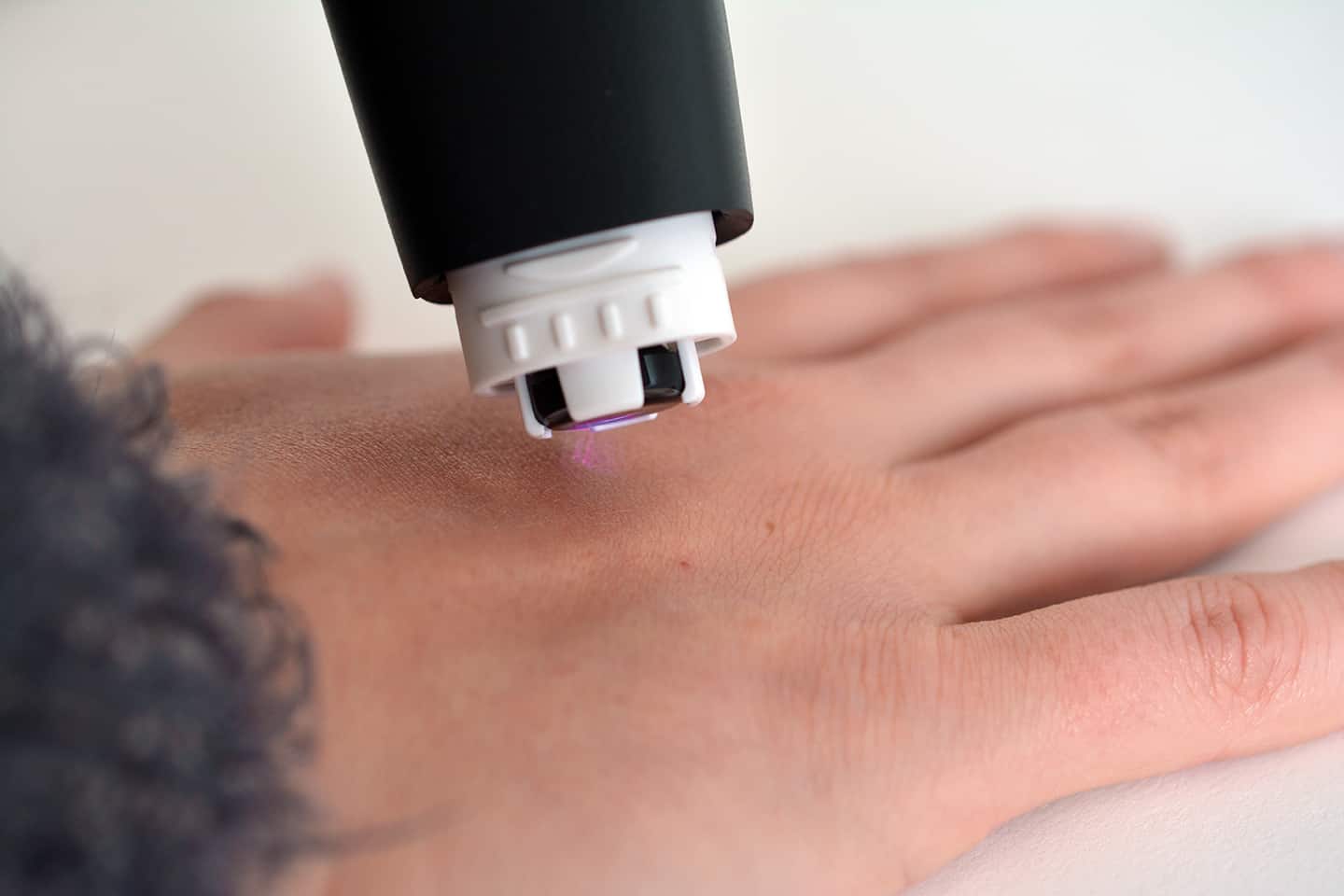 The beautyPlas Concept is a handheld plasma device with a specialized nozzle for skin treatment and requires no external gas input. It uses an innovative, compact form of plasma generation for non-thermal or "cold" plasma. To reach the high performance level the CeraPlasTM component of TDK is integrated.
The beautyPlas is developed for the cosmetic treatment of the skin where the cold atmospheric pressure plasma acts in a complex way: via UV rays, reactive species and electric fields.
Possible applications of cold plasma
Skin rejuvenation
Reduction of impurities
Skin cleaning
Subdermal skin tightening
Lightening of dark pigmentation disorders
Plasma treatment on finger nails prior to coating with a varnish
Technology
relyon plasma has developed the PDD technology® (Piezoelectric Direct Discharge) for particularly compact plasma generation. The PDD Technology® is based on the direct electrical discharge at an open piezoelectric transformer (PT). The PDD® technology transforms a low input voltage. This results in a high electric field strength. This dissociates and ionizes the surrounding process gas – typically air. Disinfection is mainly carried out by oxidizing odour-producing molecules and microorganisms with ozone.
Advantages
The advantages of the relyon plasma beautyPlas-concept are obvious:
Small and compact
Extremely easy handling for the end user
Very energy-efficient due to low heat losses
Very environmentally friendly – no auxiliary materials such as chemicals or additives necessary
Easy to use
Only 24 V required for operation (power supply for standard socket)
Highly efficient and safe excitation of gas molecules
Extremely high power density of the compact device
What are you waiting for?
Get in contact now >>