Plasmatool at Roding Automobile
– passion unites
Roding Automobile GmbH is an internationally active technology company in the field of lightweight construction and electromobility. As a technology company specializing in the development and production of lightweight CFRP structures for the automotive and aviation industries, it is particularly important for Roding Automobile to deal with the latest manufacturing processes.
A core competence of Roding Automobile GmbH is the use of modern composite materials such as CFRP (fibre-reinforced plastic). Surface tension and the associated wettability of the material play an important role, especially in the areas of bonding and laminating.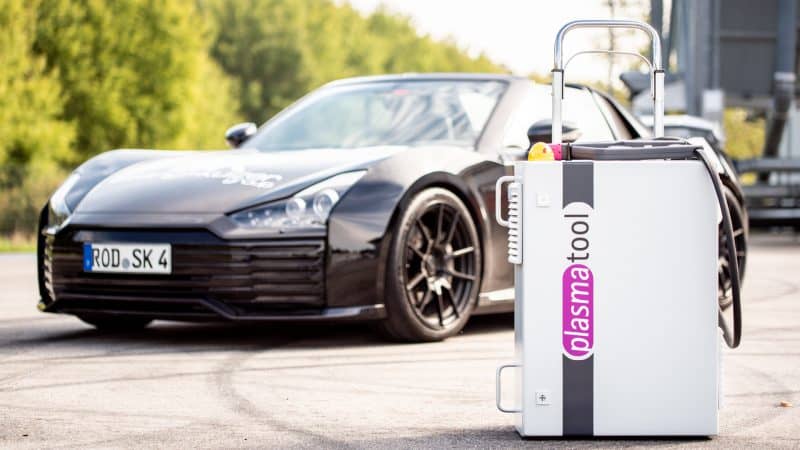 With the aid of the plasmatool, a highly efficient plasma hand tool for surface treatment, these parameters can be optimized quickly and easily.
An atmospheric pressure plasma is applied to the workpiece so that the surface is freed of fine impurities and chemically modified. This ensures optimum preparation for subsequent processes such as gluing or laminating. An example of this material is shown below.
After plasma treatment, inserts made of various materials with significantly improved mechanical properties can be incorporated into the laminate. Thermoplastics that would have been impossible to bond before due to their low surface energy can also be processed.
The plasmatool impresses with its flexibility, versatility and simple handling. From prototype construction to series production – with the help of the Plasmatool we are revolutionizing surface treatment and ensuring the best connection.
Would you like to know more about the plasmatool or surface treatment of composite materials?
More information about the plasmatool >>