The In-Vitro Activity of a Cold Atmospheric Plasma Device
against Bacteria and Biofilms Associated with Periodontal or Peri-Implant Diseases
Authors: Jungbauer G., Favaro L., Müller S., Sculean A. & Eick S.
Publication: The In-Vitro Activity of a Cold Atmospheric Plasma Device Utilizing Ambient Air against Bacteria and Biofilms Associated with Periodontal or Peri-Implant Diseases, Antibiotics, 2022, 11(6), 752.
First published: https://www.mdpi.com/2079-6382/11/6/752
Summary:
Conventionally, the biofilm that develops in periodontal and peri-implant diseases is removed mechanically and treated with the addition of antibiotics. Due to the generally high use of antibiotics, a search for alternative treatment methods is necessary, with cold atmospheric plasma (CAP) showing promising potential as a new treatment method.
The aim of the in-vitro study was to investigate the effect of CAP on log10-step reduction of colony forming units (CFU) for different planktonic bacterial species. A treatment of multispecies biofilms also took place. Furthermore, the adhesion of gingival fibroblasts to dentin and titanium samples before and after plasma treatment was considered.
In the study, the piezobrush® PZ3 with Module Nearfield from relyon plasma, which was originally developed for non-medical applications, was used to generate CAP. Figure 1 shows the experimental setup. The plasma generated by a combination of Piezoelectric Direct Discharge and Dielectric Barrier Discharge was efficiently transferred to the grounded substrate. It reached a temperature of about 50 °C with a power consumption limited to 8 W, and the treatment distance was 2 mm.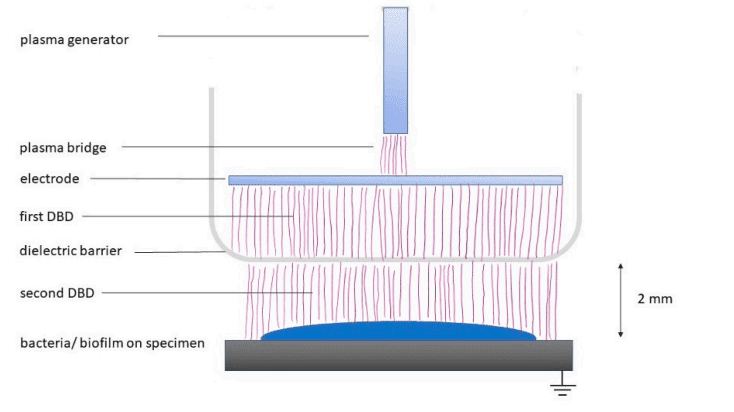 The bactericidal effect of CAP was investigated on a total of 11 bacterial species (including P. gingivalis, T. forsythia, and F. alocis). Treatment times were 10, 30, 60, and 120 s. Compared to the untreated samples, a reduction of ≥3 log10 CFU could be detected in 10 of 11 bacterial species already after 30 s, and after 120 s the detection threshold of CFU could be undercut by 8 of the 11 species.

A strong influence on biofilms was also demonstrated by experiments with CAP. These were cultivated from the already investigated planktonic bacterial species. Figure 2 shows the test results on dentin. The number of CFU of the untreated biofilms was on average >8 log10, with a strong time-dependent decrease due to plasma treatment. After 120 s, a mean reduction of 2.43 log10 occurred. Biofilm mass did not change significantly by treatment, in contrast to metabolic activity. The latter was reduced by 95 % after 120 s of treatment. Analogously, similar results were obtained for titanium surfaces.

Adhesion of gingival fibroblasts was observed mainly on titanium. In Figure 3, a significant increase in fibroblast concentration from 800 to 1200 cells/mm2 can be seen after a treatment period of 120 s in contrast to dentin, which underlines the potential of CAP for the pretreatment of titanium implants.
Conclusion:
In summary, it is shown that CAP, in this study generated by the piezobrush® PZ3, can be used as an effective bactericide. CAP has a strong inhibitory effect on biofilms and can be used as a pretreatment of titanium implants to enable faster fusion with jawbone material. In particular, the significant increase in fibroblast concentration promotes faster wound healing. The possibilities of treating periodontal and peri-implant diseases with CAP have been demonstrated with the promising results of this study and form the foundation for further investigations.
You can read the complete publication here.