Partial part cleaning on functional and connecting surfaces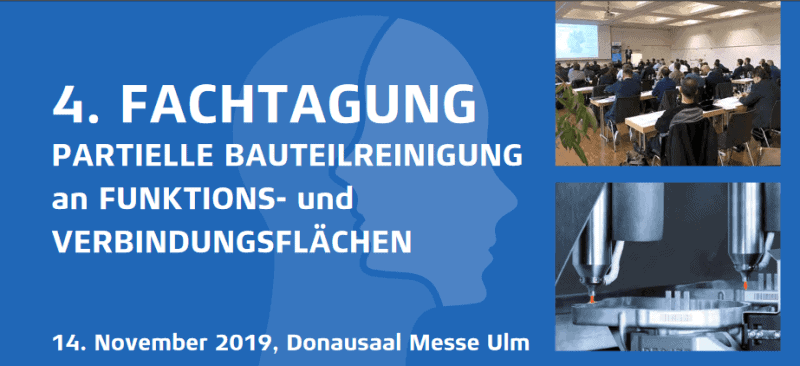 On November 14, 2019, the 4.th symposium "Partial component cleaning of functional and connecting surfaces" will take place in the Donausaal of the Messe Ulm. The symposium will give a general overview of proven local cleaning methods, guaranteeing cost-effective part production. The focus will be on experience reports on the topic: Optimal solutions for cleaning technology and quality assurance in partial component cleaning through knowledge, perfection and innovation.
We are very happy that Corinna Little will give a talk on "Cleaning metal surfaces with atmospheric plasma" this year.
Program Partial part cleaning symposium
THURSDAY, NOVEMBER 14, 2019
08:30 – 09:00
Welcome coffee – Distribution of conference documents

09:00 – 09:15
Welcome
Organizer and conference leader
09:15 – 09:45
Method for partial component cleaning
Fraunhofer-Institut für Werkstoff- und Strahltechnik IWS, Dresden | Annett Klotzbach
09:45 – 10:15
Quality assurance by means of surface analysis
Fraunhofer-Institut für Grenzflächen- und Bioverfahrenstechnik IGB, Stuttgart | Jakob Barz
10:15 – 10:45
Quality assurance by means of process measurement technology
SITA Messtechnik GmbH, Dresden | Stefan Büttner
10:45 – 11:15
BREAK – Exhibition
11:15 – 11:45
Cleaning of metal surfaces with atmospheric plasma
Relyon Plasma GmbH, Regensburg | Corinna Little
11:45 – 12:15
CO2 snow jet cleaning for optimum surface finish
acp – systems AG, Ditzingen | Günther Schmauz
12:15 – 12:45
Technical cleanliness of gaskets – Requirements and implementation
SEALS'N' FINISHING, Beuren | Simone Frick
12:45 – 01:45
LUNCH Break – Exhibition
01:45 – 02:15
Process selection for partial component cleaning
ECOCLEAN GmbH, Monschau | Daniel Jessen
02:15 – 02:45
Flexible system solution for selective laser cleaning of large and complex components
4JET Technologies GmbH, Alsdorf | Carsten Thielen
02:45 – 03:15
BREAK – Exhibition
03:15 – 03:45
Fine cleaning and surface activation with short-wave UVC light
INNOVENT e.V. Jena | Jörg Leuthäußer
03:45 – 04:15
The automation of application-specific surface pretreatment of adhesive surfaces
ATN Hölzel GmbH, Oppach | Ronny Gutte
04:15
Closing remarks – End of event
Event flyer >>