Effect of Plasma Treatment of Titanium Surface on Biocompatibility
Scientists of Osaka Dental University researched on the effect of plasma treatment of titanium surface on biocompatibility. The entire test series was performed with the piezobrush PZ2 from relyon plasma.
Authors: Daiga Ujino, Hiroshi Nishizaki, Shizuo Higuchi, Satoshi Komasa, and Joji Okazaki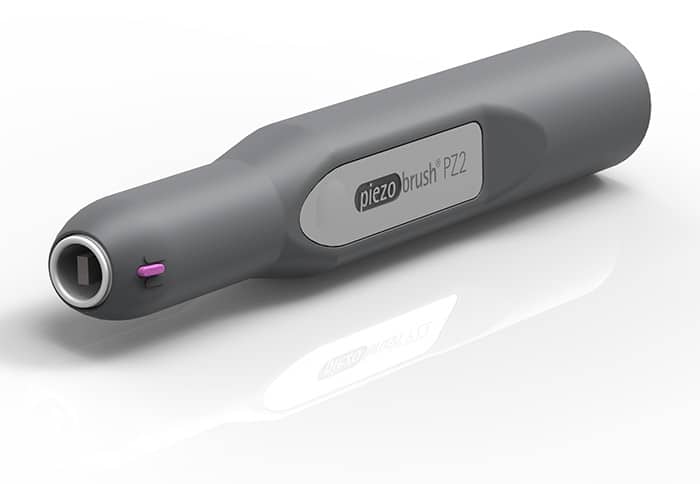 Abstract
It was recently reported that implant osseointegration is affected by surface wettability. The relationship between hydrophilicity and cell adhesion was corroborated by numerous in vivo studies. Concentrated alkali improves the biocompatibility of pure titanium. Research was conducted on the mechanism by which this treatment increases hydrophilicity. In the present study, we used atmospheric pressure plasma processing to enhance the hydrophilicity of the material surface. The aim was to assess its influences on the initial adhesion of the material to rat bone marrow and subsequent differentiation into hard tissue. Superhydrophilicity was induced on a pure titanium surface with a piezobrush, a simple, compact alternative to the conventional atmospheric pressure plasma device.
No structural change was confirmed by Scanning electron microscope (SEM) or scanning probe microscopy (SPM) observation. X-ray photoelectron spectroscopy (XPS) analysis presented with hydroxide formation and a reduction in the C peak. A decrease in contact angle was also observed. The treated samples had higher values for in vitro bovine serum albumin (BSA) adsorption, rat bone marrow (RBM) cell initial adhesion, alkaline phosphatase activity (ALP) activity tests, and factors related to bone differentiation than the untreated control. The present study indicated that the induction of superhydrophilicity in titanium via atmospheric pressure plasma treatment with a piezobrush affects RBM cell adhesion and bone differentiation without altering surface properties.
Conclusion
The present study clarified that low-temperature, atmospheric-pressure plasma treatment imparts hydrophilicity to the surface of pure titanium metal and removes contaminants from it. The results also disclosed that plasma treatment induces the initial adhesion of rat bone marrow cells and proteins to the material surface and may trigger hard tissue formation. It is expected that this technology will be extensively applied in clinical settings because it is compact and easy to use.
Read the full article >>