Adhesive joints between silicone and plastic
Reliable adhesive joints in medical technology
Rimkus Medizintechnik has been active in the field of biomedicine and medical technology for many years. The current focus is on telemetry for obstetrics. All medical devices comply with the international standard DIN EN ISO 13485 and require consistently high manufacturing quality. Often the housing parts of medical devices are made of plastic and silicone, which on the one hand serve to protect the electronics inside and on the other hand to fulfill the function of the device. However, in joining technology, it is usually very demanding to produce durable and reliable adhesive joints between silicone and plastic parts. In order to guarantee strong adhesive joints between silicone and plastic, cold atmospheric pressure plasma from the plasma handheld device piezobrush® PZ2 is used in production at Rimkus Medizintechnik.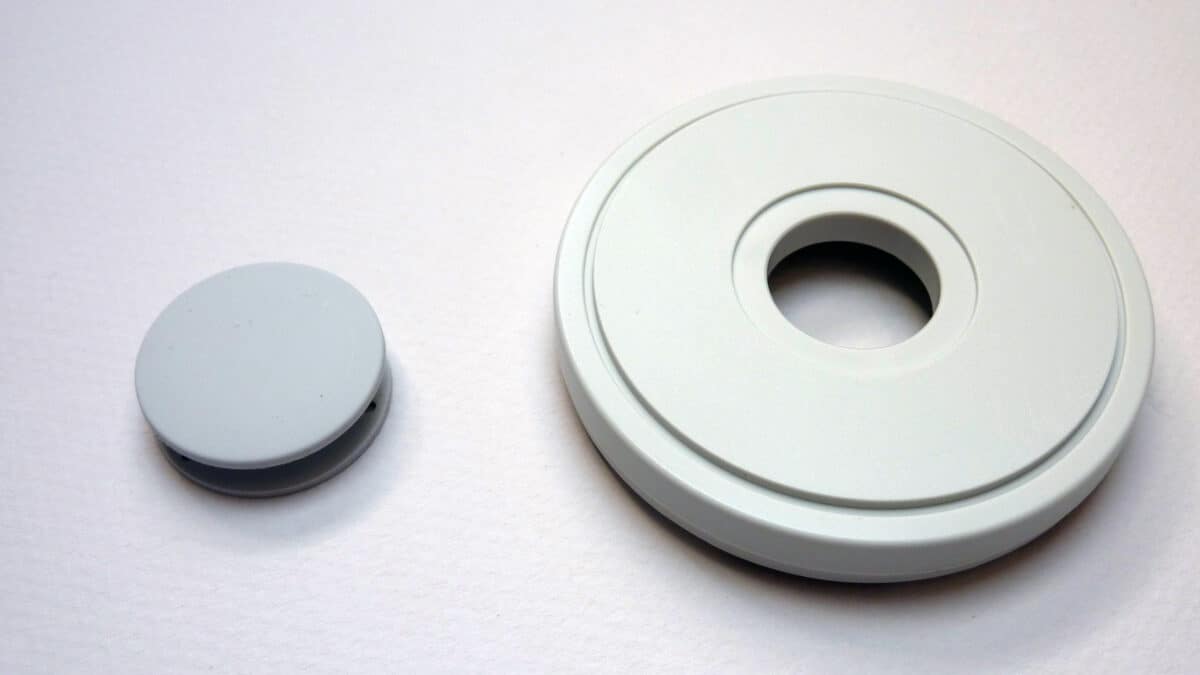 Application example: Assembly of housing parts
The housing of a sensor for uterine contractions serves as an example. In this case the housing material is Bayblend, a mixture of the plastics ABS and PC. A silicone part made of Silpuran serves as a pressure chamber for measuring the absolute pressure. For this purpose, a firm bonding with the housing is necessary. First the parts are cleaned with isopropanol. Then the plasma treatment with the piezobrush® PZ2 takes place.
The silicone part is then glued into the opening using RTV mounting adhesive 118Q from Momentive and the excess adhesive is removed. After 24 hours the adhesive joints between silicone and plastic are stable.
Now the interior components are mounted and the upper and lower parts of the housing are connected and sealed with a silicone ring. After cleaning the bonding surfaces with isopropanol, plasma treatment with the piezobrush® PZ2 is performed.
Then the silicone ring is connected to the housing with mounting adhesive. This construction serves primarily to allow the built-in Li-Po battery to gently open the housing in the event of damage and subsequent inflation, instead of bursting it open as would be the case for a screw connection.
Good arguments for cold plasma
We have tried various methods for the pre-treatment of the plastic surface: primer, gas flame, other plasma generators. Primers were not easy to handle and damage the surface next to the bonding area. The gas flame is difficult to dose. Other plasma generators produced plasma that is too hot and require additional infrastructure. The piezobrush system generates cold plasma and it's handling is very flexible. The adhesive joints produced with it resulted in sufficient strength for our purposes.
Martin Patsch - Rimkus Medizintechnik
About Rimkus Medizintechnik
Rimkus Medizintechnik has been active in the biomedical field since 1986. Computer-aided systems and mobile measurement technology are the special fields of expertise. After 30 years in medical technology, the current focus is on telemetry for obstetrics. In 1999, Rimkus Medizintechnik was the first company to launch a telemetry system on the market which, using waterproof transducers, could record the fetal heart rate and contractions completely wirelessly, even in water, and transmit them by radio.