MediPlas® Drive
Driver for ozone generators as a component for industrial and medical applications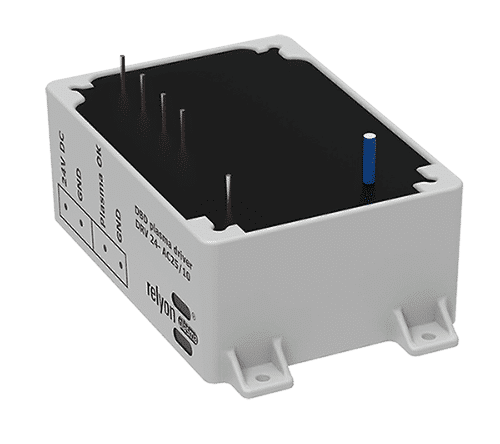 We are looking for partners >>
We are looking for partners who would like to benefit from the advantages of our DBD components and integrate our modules into their systems.
The MediPlas® Drive from relyon plasma is a driver for ozone generators. The high voltage source provides the necessary voltage power for ozone generation. The MediPlas® Drive and the MediPlas® Reactor can be integrated into applications as components for cleaning, sterilizing and disinfecting.
The high voltage source is designed to operate with a suitable plasma generator. The ozone generator driver converts a DC low voltage to AC high voltage using an autoresonant circuit topology. The output frequency independently adjusts to the load being operated.
Contact us >>
Applications of the driver for ozone generators
The cold atmospheric plasma components can be used wherever hygiene is an important consideration. This can be optimized by incorporating ozone into Cleaning in Place (CIP). Instead of the typical six steps, only four steps are required due to the incorporation of ozone.

Possible applications of the driver for ozone generators
Medical technology
Dental sector
Pharmaceutical industry
Packaging industry
Food and beverage industry
Agriculture industry
Automotive industry
Technology
High durability; easy integration
High ozone concentration
Stable against humidity
Operates with pure (medical) oxygen to provide high ozone concentrations > 50,000 ppm. High oxygen concentrations can also be provided with pressure swing absorption (PSA).
High NOx operation for inline fertilization for plants.
Technical data of the driver for ozone generators
Typical input power: 10 – 30 W
W x H x L: 73 x 46 x 120 mm
Weight: 400 g
Reference signal: Analog 0 to 5 V
Advantages
High efficiency
Temperature, over- and undervoltage protection as well as overload protection (auto recovery)
Compact size
Easy integration into the device
Simple power control
Process monitoring signal
Wide range of usable loads
Made in Germany
Advantages of the MediPlas® system for end customers
Low cost per cycle
Avoidance of chemicals
Short process time
Environmentally friendly
No use of consumables