Drive-4-Plasma – all-in-one plasma system
The Drive-4-Plasma all-in-one plasma system for plasma processes is an extended version of our individual customer solution: the Plasmabox. This integration unit makes it possible to integrate an atmospheric plasma system easily and quickly into your existing industrial processes. The focus was especially on communication capability.
With this unit relyon plasma offers an integration solution that can be modified according to the prevailing conditions. The basic structure of the plasma system consists of a plasmabrush® PB3 plasma generator and a PS2000 high-voltage source, which are installed in a robust switch cabinet that protects the internal components.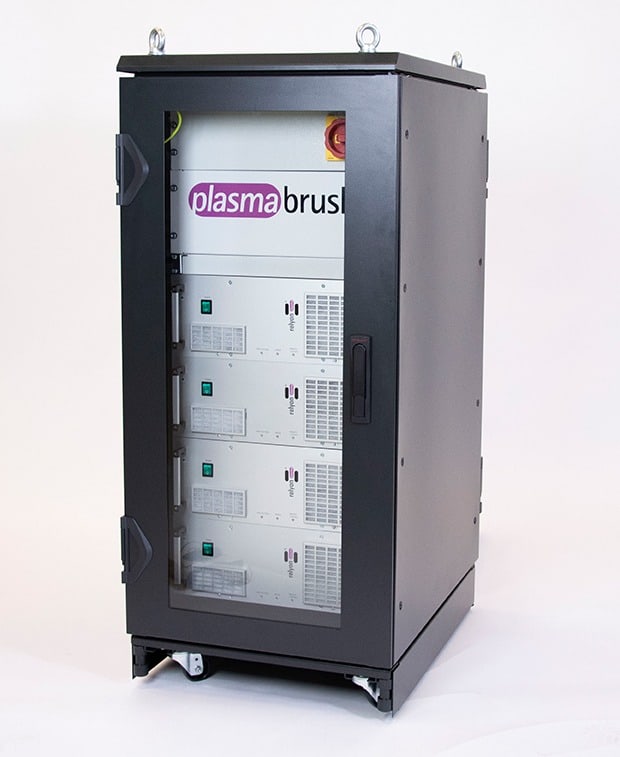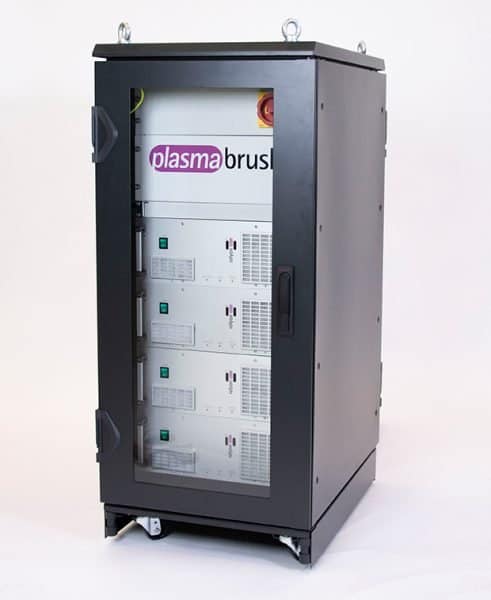 The existing housing offers the possibility to integrate up to four high voltage sources at the same time and thus to operate four plasmabrush® PB3 plasma generators. In the roof and in the bottom part there are active fans, respectively through-flow openings for cooling or heat dissipation of the internal components.
Flow control is performed by a separate maintenance unit for each high-voltage source in combination with a time-controlled pressure valve. Gas supply and follow-up times can be set to ensure a safe plasma process.
It is also possible to connect up to four flow sensors. The return data of the flow sensor (both above and below a threshold value as well as an analog voltage signal indicating the current flow rate) to the integrated or higher-level controller can be used to control both the process gas flow and the process gas consumption.
The Drive-4 plasma all-in-one plasma system can be easily integrated into an existing system and the plasma process can be started. Please contact us if you would like further information.
Get in contact >>
Technical details Drive-4-Plasma
In the Drive-4 plasma system, all connecting cables of the PS2000 high-voltage source are laid to the outside so that integration into an emergency stop circuit of the higher-level control can be easily implemented. The resulting unit can also be set up decentrally using a 10-metre long high-voltage cable per plasma generator.
Integration capabilities
Different systems have different standards in terms of communication and integration. For example, the higher-level main controller can come from different suppliers, such as Beckhoff, Siemens, Wago or EATON. Each high-voltage source has a CAN interface. The CAN bus interface allows the system to be integrated into almost any existing solution. A wide range of sensors or mass flow controllers can be used thanks to the CAN standard. The corresponding interface is provided worldwide by most common industrial controllers. Up to 127 devices can be controlled via one CAN node.
The entire process control is controlled via the CAN bus. If the higher-level controller (e.g. Beckhoff, EL6751 or similar, or Siemens S1200, Ixxat extension module CM CANopen) has CAN master functionality, the high-voltage sources can be integrated directly into the higher-level controller. This enables complete process control. For additional process safety, CAN mass flow controllers can be integrated.
Of course, you can also use controllers with ProfiBus or ProfiNet without native CAN interface. IXXAT/HMS offers robust interface modules for all typical automation solutions, e.g. for ProfiBus or ProfiNet. These gateways are preconfigured internally at relyon plasma and only need to be integrated into the higher-level control system by assigning variables.
If you only want to control the system via digital signals and digital status feedback is sufficient, it is also possible to install an internal controller which interrogates the signals from the CAN bus, processes the signals and outputs the status digitally (0V or 24V). It is possible that additional mass flow meters are either integrated into the internal control system or that the signals from the mass flow meters (both above and below a threshold value as well as an analog voltage signal indicating the current flow rate) are transmitted to the higher-level control system. In this case, process parameters can only be set directly on the system. These process parameters include power and frequency.
Due to the modular system of the relyon plasma components it is of course possible to connect further systems.
Are you looking for a more flexible solution? Get in touch with us!
Request individual solution >>